Ceiling Fan Installation, Replacement & Repair
Three Reasons to Call Ingram Electric Company For Ceiling Fan Installation, Replacement, or Repair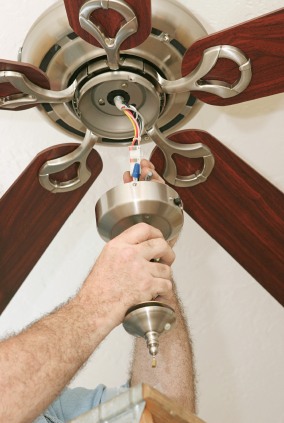 Licensed Electricians – Installing a ceiling fan can be a complicated procedure, considering the fixture's weight and potentially awkward location. Wiring for a new ceiling fan and actually hanging up the fixture is best left to the professionally trained electricians at Ingram Electric Company. With years of experience in every stage of ceiling fan installation, Ingram Electric Company crews have the tools and skills to handle the details, including:
Sizing the Junction Box
Wiring the Ceiling Fan
Securing the Fan to Beam
Installing Lighting and Fan Controls
Installing Light Bulbs
Testing the Fixture
Affordable Prices – Ingram Electric Company will help you save money as well, providing professional service at competitive prices. Ingram Electric Company supplies all of the wiring and controls necessary for ceiling fan installation, and will move an existing ceiling fan or install your new one quickly and for a fair price. Avoid doing this project yourself and save money by calling Ingram Electric Company.
Solid Warranty – With Ingram Electric Company on the job you can you to trust that your ceiling fan has been securely mounted. Ingram Electric Company even stands behind all ceiling fan installation projects with a solid customer service warranty. In the business since 2000, Ingram Electric Company can provide a list of satisfied local customers for references.
Trust in the professional work and solid warranty offered by Ingram Electric Company, experts in ceiling fan installation for an affordable price. Improve your living space by calling Ingram Electric Company at (972) 798-8087 today for a free quote.