Welcome to Ingram Electric Company
Electricians in the Dallas Texas area
MASTER ELECTRICIAN LICENSE #96200
ELECTRICAL CONTRACTOR LICENSE #23325
Looking for an Electrician in the Grand Prairie, Texas Area?
Go with the pros! Ingram Electric Company has been Grand Prairie's electrician of choice, serving home owners and businesses since 2000. Ingram Electric Company is the area's preferred provider of electrical services, electric repair, and residential and commercial electrician services in Grand Prairie and surrounding communities.
Ingram Electric Company offers the full spectrum of electric services from wiring installation to snaking wires and installing new switches, lights and outlets. Finding a trustworthy, skilled electrician in Grand Prairie just got easy!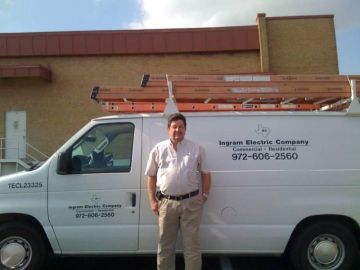 ---
Call for a FREE Quote
---
Master Licensed Electrician in Grand Prairie, Texas
Whatever your project, whether commercial or residential Ingram Electric Company can help power it. We can also relocate or expand your breaker panel or completely update your wiring to increase your family's safety and meet Texas electric codes.

Certified Grand Prairie Electrician for Repair Work
If you require an electrician to take care of repairs in your Grand Prairie area home or business give Ingram Electric Company a call. Perhaps the lights dim when the washing machine turns on, or an outlet sparks when plugging in a lamp. Whatever your electrical concerns, Ingram Electric Company electricians are licensed and experienced. We can find and fix your problem quickly and economically.

Licensed Grand Prairie Electrician for Lighting
Have you become tired of outdated lighting in your bathrooms or kitchen? Call us today and find out how reasonable it is to have Ingram Electric Company's Grand Prairie electricians come update your rooms. Ingram Electric Company can design, suggest changes, and install kitchen and bathroom lights to add ambiance or illuminate your work areas, improving your mood, safety and productivity!

Skilled Grand Prairie Electrician for Commercial Electric
Need an electrician to handle your electrical problems in your Grand Prairie business? Ingram Electric Company electricians are licensed fully licensed and insured to handle your commercial electric problems such as tripping breakers or overloaded circuits. Or if you're in need of an electrician to run additional circuits to cash registers, computers or air conditioning units, give Ingram Electric Company a call at (972) 798-8087 to learn more.
---
Call for a FREE Quote
---
Call Ingram Electric Company to discuss your Grand Prairie electric needs.